Offices come in all shapes and sizes and they are commonplace in all kinds of industries. But while every office will have plenty of similarities they are all going to be very unique environments as well.
You will see quite a wide range of equipment in an office but what is most important?
You might instantly think of something like a computer or something a little more lowkey like a pen or even paper. These are all undoubtedly important pieces of equipment but the focus of this blog is something I would argue is equally important but not often talked about the humble shredder!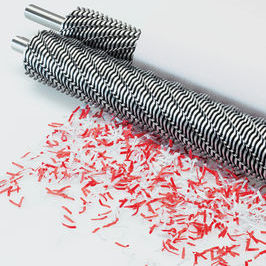 A Paper Shredder might seem like a luxury extra and not something many people would even really need to bother with. After all, can't you get the same results just by ripping up papers yourself? It might seem like that but in reality, a shredder does something very different.
Office shredders are used to safely get rid of important documentation and paperwork in an office. You'd be surprised by just how much this sort of documentation can build up. And by using a shredder you can ensure any documentation is unrecoverable.
What a Shredder can actually do and how it benefits an office environment.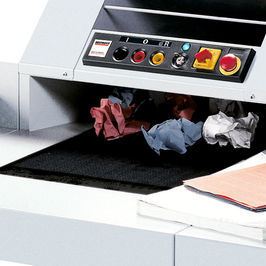 Waste Convenience
One of the main reasons shredders are used in offices is because of their speed, ease of use and effectiveness. A shredder will be able to cut through unneeded papers in seconds and many can shred dozens of papers at once.
Shredders are also easy to use and operate so practically everyone in the office will be able to handle their own waste management using one. Offices are busy places so having a fast and effective way to cut down on waste is very important.
Environmentally Friendly Solution
We all know how important protecting the environment is and offices without a shredder will be incredibly wasteful. Most shredders use environmentally-friendly technology and some company's even use the waste paper to create things like mulch! So, yes a shredder really helps offices/ businesses be greener.
Extra-Protection For Employees and Customers
This is likely the main reason shredders are so commonly used in offices. The need to safely dispose of sensitive/ private information is something that many businesses have to deal with. It can also be quite challenging as many businesses fall into the trap of focusing solely on the digital risks.
While those are undoubtedly important just chucking papers in a bin is going to lead to potentially huge security breaches. People still dumpster dive to try to find people's private information which is why utilising a shredder is something most offices will do.
With a shredder, you can safely dispose of all sensitive documentation ensuring all physical copies are unrecoverable. So, yes while safeguarding against the digital risks is very important you shouldn't forget about the benefits of a shredder either.
Read: Shredder Security Levels explained
An Effective Way To Save Money
Because shredders are such an effective way to get rid of any important documentation they are incredibly valuable when it comes to saving your business money. It might not be instantly clear how they do this so let me explain.
If your office was to just throw sensitive papers/ documentation away and then it was recovered by someone else who used it to access that person's information you would likely be held liable. Offices take security very seriously and while it might not seem like it at first glance a shredder is a very important and effective tool for increasing office security.
Any business that loses people's data or puts their security at risk through improper waste management could and likely will be held liable. This means you will likely need to pay out compensation so yes get your office a shredder.
They Can Be Used For More Than Paper!
One thing many people don't realise is that many shredders today can be used for much more than just paper! Many office shredders can safely shredder other common office accessories and tools like paper clips, plastic wallets, staples, CDs, DVDs, floppy discs and more but also for other things like a Hemp Hammer Mill for example.
So, yes you can really just shove everything into the shredder and let it do its work. This improves both the waste management capabilities of the shredder and makes it much easier to use and less time-consuming.
So, that completes our look at why shredders are so very important for offices these days. They might not seem like they are the most important piece of equipment but a good shredder can do many great things.