An office is a very versatile setting, isn't it? Many businesses will have an office of some kind and despite what many people probably believe an office doesn't have to be a huge sprawling area covered with desks, computers and hundreds of employees.
Sure larger offices might be like this but offices can also be much smaller places with only a handful of people. Some offices believe it or not might not even have computers or desks, although that is getting more uncommon every year.
But regardless of the size of the office, there are going to be a few essential things you will need. Now, of course, some of these will be common sense things like having a ready supply of paper and pens. But there are going to be some items that are going to be a lot more uncommon.
These might not seem like essential things you will really need but trust me they will definitely come in handy. There is one particular item that I think most offices overlook especially smaller ones and that is paper shredders!
Why Is A Paper Shredder A Must Have Office Item?
So, why is a paper shredder a must-have item for an office? Well, a paper shredder can be used for safely getting rid of sensitive information like letters and documents that contain private details. Sure just ripping them up or chucking them in a bid might seem like it will do the same job but trust me it won't!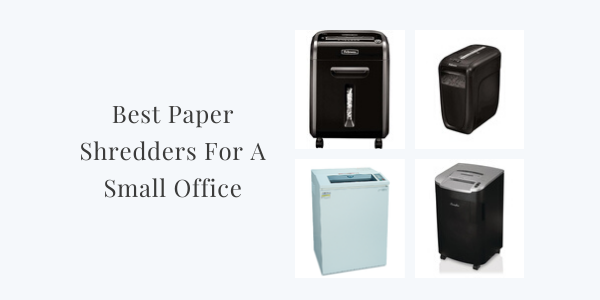 Even if you rip up a document into small pieces and throw it into a bin someone could still collect it and piece it back together. Yes, it might not seem likely but it does happen and when you are running a business that deals with private/ personal information it is always better to be safe.
Having an Office Shredder will also make disposing of documents and paper waste much easier as well. They'll be less mess and the job will be much quicker as well. Also, a paper shredder is a very easy appliance to use (even the more complicated models) so everyone in the office will be able to use it with only minimal training.
Offices of all kinds can benefit from using a paper shredder but small offices, in particular, will find them incredibly useful. Small offices won't have has much time to get rid of their unneeded documents so can often end up storing them till they have too much unnecessary waste.
This isn't only going to make your work much more difficult but it will also increase the risk of sensitive/ private information getting into the wrong hands. A small office will need a quick and easy way for people to safely get rid of documents they no longer need especially if they have private information on them.
And by using a shredder you will be able to do this quickly and efficiently. So, every office should have a shredder but that leaves us with another important question - which is the best paper shredder for a small office? Well let's get right down to it and try to answer that question, shall we?
The Many Types of Paper Shredder
Paper shredders might look alike but there are many different varieties available. Knowing which is the best shredder for a small office might seem simple enough but there is actually a lot to think about and consider. Many people opt for small cheaper shredders but these are not usually going to be your best option.
These smaller cheaper shredders have a couple of noticeable problems. For one thing, they are notably quite weak which means they typically won't last long before they need replacing. They will also usually only have a very small capacity which means they will need emptying a lot.
Finally, the shredding pattern on these types of shredders won't usually be very secure. People can easily put the papers together so they can actually still see the information! So, these shredders while cheap won't actually be very secure. This is why any small office looking for a shredder should invest in a more high-quality machine.
Advantage Business Equipment commonly known as ABE is the prime example of a trusted supplier who offers a great range of more high-quality paper shredders that would be ideal for a small office. Below, I've outlined some of the many great shredders you can find available from them.
Fellows Powershred
The Fellows Powershred shredder is much sleeker than your traditional boxy shredder. This more unusual design is a hallmark of the Fellows Powershred series of shredders and while it might take a bit of getting used to it's actually a very simple machine to use.
The Fellows Powershred is also one of the more powerful shredders currently available and it can shred up to 22 sheets of paper in one go! The shredder can also safely shred staples as well which means you can just slot papers into it straight away.
This smart and innovative appliance features some amazing internal technology and is designed to be 100% jam-proof. It also features advanced safety features that will automatically shut the shredder down if the paper opening is touched.
The shredder also comes with a 16-gallon waste bin which means it can take several loads of paper before filling up. Perhaps most important of all the Fellows Powershred shredder is one of the more quiet shredders available making it ideal for smaller office spaces that often thrive on a more calm and peaceful noise level.
Swingline LS32-30 Shredder

Swingline is a popular brand when it comes to shredders but how does the LS32-30 model measure up? Well, the first thing you'll notice is that this shredder is large which might make it seem like a bad fit for a small office. However, while you might need to clear a space for it this shredder does offer a lot of impressive features.
For one thing, the Swingline LS32-30 is designed to be jam-free and can shred an impressive 32 sheets at once! This gives the shredder a very large total capacity which means it can be incredibly valuable for small offices with a lot of paperwork.
The shredder also features some impressive LED lighting features that make using it a breeze. The light turns red when you have inserted too much paper and green when everything is okay. So, you won't be at a loss when it comes to deciding whether you have inserted enough paper or not. The shredder can also safely cut through staples, paper clips, CDs and more.
While this is all very impressive one of the most interesting features of this shredder is the fact that it can run continuously and that it automatically lubricates the cutters. It does this using a synthetic oil substance which will help ensure paper moves more fluidly and freely within the shredder. An automatic shutdown can also be set-up so you won't accidentally leave the shredder on overnight.
Formax FD8402CC Office Cross-Cut Shredder

Formax is another popular name when it comes shredders but how suitable are its machines for smaller offices? This shredder is more sleek and compact which makes it ideal if you don't have a lot of room in your office for a shredder. However, this compact size still comes with a simple, easy to use LED control panel.
Many people underestimate shredders when it comes to their controls as many more advanced models can feature a variety of settings. This shredder is a great example of the versatility you can get with a professional shredder and thanks to the easy to understand set-up manipulating the controls is easy.
The shredder features a variety of safety sensors and it will automatically shut down after 5 minutes of inactivity or if the waste paper bin is full. You'll also be able to take advantage of the smart auto cleaning feature. Finally, the shredder also features an innovative self-diagnosis system so if you do run into errors finding out the cause should be relatively simple.
HSM Securio B35 Shredder

The HSM Securio B35 is designed for offices with 5 people or more, while some people might argue otherwise I think this still falls under a small office. It might appear to be quite large but it is actually deceptively compact with a modern ergonomic design.
It's also much quieter than some similarly priced models despite being what many would consider a more heavy-duty shredder. The motor can run continuously and it can safely shred up to 26 sheets of paper in one go. One big advantage of this shredder is that it features a large waste paper bin that can fit up to 34 gallons of waste.
The HSM Securio B35 also features a high-quality built-in anti-jam sensor that will shut off the shredder when a jam is detected in the machine. The shredder can also safely cut through paper clips, staples, CDs and more. You can also choose from a variety of different shredding modes include a low power consumption setting.
So, while this shredder might seem like a big, bulky machine at first glance it is actually quite versatile and a great choice for a small office that will be handling a lot of documentation. With a simple easy to use interface and a range of shredding modes it has got everything the modern small office could need.
Swingline LX20-30 Shredder

Finally, let's look at another Swingline shredder the LX20-30 model. This shredder features a cross-cut blade which is one of the best cutting patterns to use when it comes to shredding important/ sensitive documentation. So, if you really want to ensure any important documents are safely shredded and unrecoverable then this is a great choice.
The shredder is also much quieter than you might think as it is 10 decibels quieter than many similar-sized models. The shredder can also safely fit up to 20 sheets of paper at any one time and comes with a 30-gallon waste paper bin. This makes it a good fit for small offices that can't afford to be emptying the office shredder every few pages.
The shredder also features some other impressive specs including a red and green LED indicator that will notify you when there are problems or the waste paper bin needs emptying. The shredder also features an automatic wake-up and shut down feature as well.
Finally, the shredder can also safely shred things like paperclips, staples, CDs and more.
Perhaps most importantly this shredder also features wheels which makes it ideal for moving from place to place.
One issue many people have with larger shredders is that they aren't very portable especially when compared to the cheaper desktop shredders. However, this shredder as successfully solved this issue.
Paper Shredders What To Remember
So, which is the best paper shredder for a small office then? Well as you can see Advantage Business Equipment offers plenty of choices when it comes to shredders but which is best for your needs? Well, the 5 models we've looked at give you a good starting point but there is still plenty more to see from ABE.
If none of these models particularly grab your attention then you will likely find another that does. The most important thing to consider are the size of the shredder, the noise level, the size of the waste basket and the cutting pattern of the shredder.
Remember for the sensitive and personal information, you will want a more thorough and secure cutting pattern. You will also want to consider the control panel for the shredder as well. Although this can be difficult to gauge from reading product descriptions alone it will at least give you some guidance on how easy to use the shredder will be.
A small office will find a shredder invaluable but you shouldn't go for the cheapest, smallest models available. Paying more for a larger, high-quality shredder will undoubtedly be the better option in both the short and long-term.