Intimus 16.50 SmartShed
Price:
Call for Low Price!
Shipping:
FREE
Brand: Intimus
SKU: 16.50
Product Videos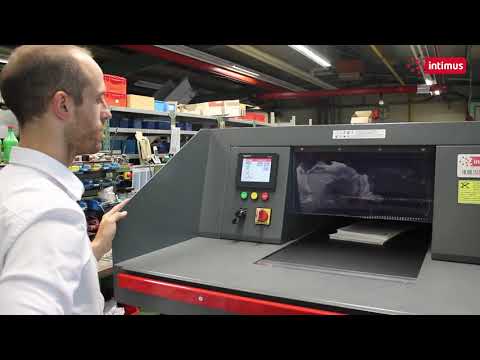 NEW!
Introducing the Intimus 16.50 SmartShed Heavy Duty Shredder Solo Version.
The Intimus 16.50 SmartShed is the newest high-performance large document shredder from Intimus. This line of shredders has proven to be central pieces for a private-friendly disposal of disused media. The model offers variations handling up to 550 sheets per hour or complete folders in one operation. The 16.50 is equipped with a spacious feed table and infeed conveyor belt to provide controlled, effortless, safe, and fast loading. The shredded material is then collected in a large-scale container beneath the machine, either mobile or swing-out.
SHREDDER

FEATURES

:
500 MM WORKING WIDTH; SUITABLE FOR ALL STANDARD COMPUTER FORMATS
FEEDING VIA CONVEYOR BELT
CONVEYOR REMOVED FROM OPERATOR SIDE
SHREDDER CAN BE INSTALLED NEXT TO A WALL
AUDIBLE "BIN FULL" ALARM WITH AUTOMATIC STOP OF SHREDDING
WIDE EMERGENCY STOP BAR ON RECEIVING TABLE FOR IMMEDIATE STOP IN AN EMERGENCY
450 l COLLECTING BIN SUPPLIED AS STANDARD EQUIPMENT
PLC
CONTROL
:
MORE INFORMATION
EXACT ERROR DISPLAY
DISPLAY WHEN SERVICE WOULD BE BENEFICIAL
USEFUL INFORMATION SUCH AS OPERATING HOURS OR BLOCKING NOTIFICATION
ALL POSSIBLE ACCESSORIES ARE SAVED IN THE SOFTWARE AND ONLY NEED TO BE ACTIVATED
VIA AN USB-STICK OR A SD CARD THE CUSTOMER CAN CHANGE THE SOFTWARE OF THE PLC
DISPLAY CAN BE ADJUSTED TO CUSTOMER REQUIREMENTS
SHREDDER

SPECS

:
SHRED SIZE: 0.39'' x 2.76'' (10 x 70 mm)
BIN VOLUME: 118.9 gal / 88.2-121.3 lbs(450 l / 40-55 kg)
WORKING WIDTH: 50+ persons
SECURITY LEVEL DIN 66399: P-2/ O-2 / T-2 / E-2
SHREDDING CAPACITY: 470-520 sheets 70 g/m²400-450 sheets 80 g/m2
CUTTING SPEED: 78.7 ft/s (0,24 m/sec)
THROUGHTPUT: 1212.5 - 1322.8 lbs/h(550-600 kg/h)
NOISE LEVEL: 61dB
ALSO SHREDS: paperclips, CD's, credit cards, compact discs, and binders
WEIGHT: 1600.6 lbs (726 kg)
DIMENSIONS (WxDxH): 120 x 195 x 155 cm
Specifications for Intimus 16.50 SmartShed
| | |
| --- | --- |
| Power Supply: | 220 3 phase |
| Max Speed (ft/min): | 27ft/min |
| Sheet Capacity (20lb - 16lb): | 470-520 sheets 70g/m^2; 400-450 sheets 80g/m^2 |
| Shred Size (in.): | 0.39'' x 2.76'' (10 x 70 mm) |
| Throat Opening (in.): | 19.685 |
| HP (output): | 10 |
| Auto on/off: | Yes |
| Auto Reverse: | Yes |
| Motor Duty Cycle: | Continuous |
| Bag Full Auto Off: | Yes |
| Bag Full Indicator: | Yes |
| Casters: | No |
| Accepts CDs/Credit Cards: | Yes |
| Accepts Staples/Paper Clips: | Yes |
| Shipping Weight: | 1600.6 lbs (726 kg) |
| Dimensions: | 47.2'' x 76.8'' x 61'' 120 x 195 x 155 cm |
| Waste Bin: | 118.9 gal / 88.2-121.3 lbs (450 l / 40-55 kg) |
---