Kobra C-500 Heavy Duty Compactor for Cyclone
Price: $20,445.00
Our Price:
$14,870.00
Shipping:
FREE
Brand: Kobra
SKU: C-500
Product Videos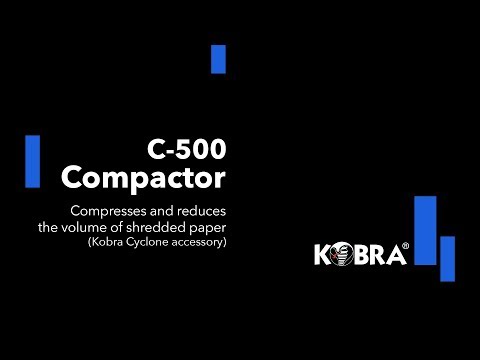 Kobra C-500 Heavy Duty Compactor
PRODUCT DESCRIPTION:
The Kobra C-500 Heavy Duty Compactor is an optional feature designed for use with either the Cyclone or Cyclone HS6 shredder when paper is being shredded to help reduce the volume of the shredded paper by 4 to 5 times, minimizing the space required for disposal. When not shredding paper, simply remove the compactor and use standard Cyclone shredder bags. It works with any level security screen and is easy to install and operate.


PRODUCT FEATURES:
Designed to work with Cyclone when paper is being shredded.
Kobra Compresses and reduce the volume of the shredded paper by 4-5 times to minimize the space required for disposal
Compacting paper increases security of one level (ISO/IEC 21964)
Easy to install and operate, it works with any Cyclone security level screen
Specifications for Kobra C-500 Heavy Duty Compactor for Cyclone
---