TRIUMPH Model 4305 Paper Cutter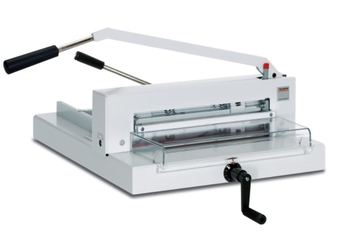 TRIUMPH Model 4305 Paper Cutter
Price: $1,999.00
Our Price:
$1,799.00
Shipping:
FREE
Brand: Triumph
SKU: TRIUMPH Model 4305
Small to medium production paper cutter.
The 4305 Triumph Paper cutter by MBM is made in Germany to commercial standards and is designed for use in small to medium size offices. †Cut paper to precision standards for thousands of cuts before you need to sharpen the blade.
Changing the blade is quick and safe with the patented safety covers and quick removal system.
The MBM Triumph 4305 manual paper cutter features fast-acting clamping system, all metal construction and a safety guard on the front and rear table. The 4305 cutter is easy to use and maintain. Blade and cutting stick can be changed without removing covers. Cut a stack of paper up to 1 1/2" thick. Spindle guided back gauge with calibrated crank and measuring scale.†
Optional: Stand ($209)
Table top model (stand optional)
Specifications for TRIUMPH Model 4305 Paper Cutter
| | |
| --- | --- |
| Cutting Width: | 16 7/8" |
| Cutting Height: | 1 1/2" |
| Narrow Cut: | 1 5/16" |
| Cutting Length Behind Blade: | 17" |
| Cutting Length Front of Blade: | 9" |
| Clamp: | Lever |
| Manual or Electric: | manual |
| Stand: | optional |
| Measurement Readout: | side guide scale |
| LED Optional Cutting Line: | no |
| Motor: | n/a |
| Power: | n/a |
| Ship Weight: | 109 lbs |
| Dimensions: | 15 3/4"H x 34 3/4"W x 34 5/8"D |
---