Postmark 3078 Floor Milling Letter Opener with reverse flow belt
Price: $9,900.00
Our Price:
$8,875.00
Brand: Postmark
SKU: 3078
Product Videos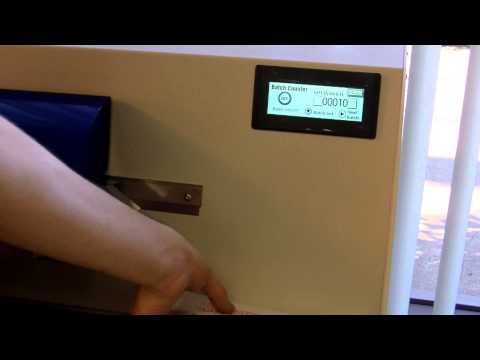 The Postmark Model 3078 letter opener is a commercial letter opener designed for large mail room processing. The high speed feed belt quickly feeds letters and mixed media mail through the steel cutting blades to precisely cut 1/8" off the outer edge. Cuts are done on an angle to make a soft feather edge to reduce paper cuts when opening mail. Contents are protected to guarantee against internal damage since the cut is limited to a minimum 1/8".
Letters up to 1/4" thick and mail of all sizes can be processed with the 3078 milling paper cutter. Includes a reverse flow discharge belt so as mail is processed it is feed in the reverse direction back to the mail feeding side of the unit. This allows the operator to stand in the same location for feeding mail and removing the opened letters.
LED user panel includes counter, batch counter, speed and rate counter, life-time use counter, delayed feed, and variable belt speed control.
Theoretical Speed: 36,000 per hour (production speed approx: 10,000 per hour)
Open up to 1/4" thick envelopes
Opens mixed sizes of envelopes
Easy to operate
Solid steel construction
One Year Parts Warranty
260 lbs
(L x D x H) 42" x 30" x 47"
Specifications for Postmark 3078 Floor Milling Letter Opener with reverse flow belt
| | |
| --- | --- |
| : | Chadless |
| : | |
| : | |
| : | |
| : | |
| : | |
| : | |
| : | |
| : | 110 Volt |
| : | 36 Lbs. |
| : | 9" H x 19" W x 11" D |
---