PDS-100 Proton Hard Drive Destruction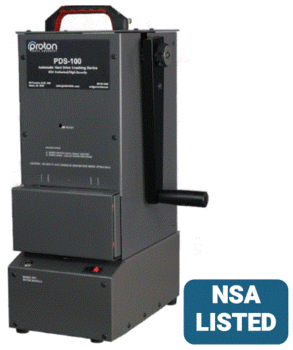 PDS-100 Proton Hard Drive Destruction
On GSA Contract
Price: $6,795.00
Our Price:
$6,050.00
Brand: Proton
SKU: PROPDS-100
Product Videos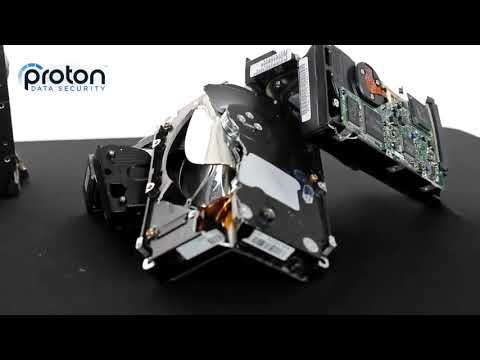 Product
Description
The Proton PDS-100 is a compact and portable hard drive destruction unit listed on the NSA/CSS Evaluated product list for 1 inch, .65 inch, 1.65 inch, and Laptop hard drive destruction. The PDS-100 is used by the NSA and DoD for destroying internal hard drives prior to disposal.
NOTE: For proper hard drive destruction, always us a hard drive degausser to remove data from the drive prior to using a drive destruction device. Degaussing guarantees data cannot be recovered from the small pieces of disk remaining after destruction because all stored data is erased. A degausser magnetically deletes stored data permanently from the storage device so when used in conjunction with a hard drive shredder, bender, or punch, the data is deleted and unrecoverable.
The easy and automatic operation is backed up by manual capability if power is not available or if used in remote locations. Insert the properly deqaussed hard drive into the feed opening and the PDS-100 automatically actives the powerful motor driving the blade into the drive body bending the housing and internal disk in 8 seconds. The blade can be manually operated by turning the high leverage hand crank on the side. Operating cycle from the hand crank is 12 seconds.
Destroys 450 drives per hour
With the optional heavy duty pelican case, the PDS 100 can easily be transported to any location for remote drive destruction.
PRODUCT
FEATURES
Tested and used by NSA and DOD for destroying hard drives
Compact and rugged design is portable and easily deployable
Automatic cycle provides fast, safe and reliable hard drive destruction in 10 seconds or less
Can operate with or without power (Manually for emergency situations)
Hard drives are bent approximately 90 degrees, which bends/breaks the platters and damages the heads, motor and circuit board.
Maintenance free and completely self contained. No messy fluids or external components to deal with and no adjustments or calibration necessary.
Laptop carrier allows for destruction of 2.5" form factor laptop drives.
Item

Specifications
Media Destroyed

:

Handles all 3.5-inch Form Factor Drives including .65-inch, 1-inch and 1.65-inch high drives.

Handles 2.5-inch Laptop hard drives with Laptop Holder option.

Handles SSD (Not NSA evaluated for SSD) drives in 3.5 Form Factor and 2.5 Form Factor with the Laptop Holder option

Dimensions:
11.625″ (29.5 cm) D x 7.25″ (18.4 cm) W x 21″ (53.3 cm) H (11″ or 28 cm wide with handle)
Weight:
63 lbs (28.5 kg)
Power Supply:
115 VAC, 60 Hz; 220 VAC, 60 Hz, 230 VAC, 50 Hz (specify voltage and frequency when ordering)
Destruction Method:
Bends/ breaks platters, damages heads, motor and circuit board
Cycle Time:
60 HZ units: 10 seconds or less

50 HZ units: 12 seconds or less (dependent on operator)Hand Crank: 8 seconds or less (dependent on operator)

Options:
Laptop; Rear Output Option; Rackmountable Slide-out Shelf Option (for 19" EIA racks, 19" to 28" deep)(Includes Slides); Remote Control Communication; Universal Screw Down Mounting Kit; Deployment Case with wheels
Warranty:
1 Year Parts & Labor. Liftetime Warranty on blade/bender.
Specifications for PDS-100 Proton Hard Drive Destruction
---