GC210 Desktop Business Card Slitter
Price: $3,010.12
Our Price:
$1,699.00
Brand: Martin Yale
SKU: GC210
Product Videos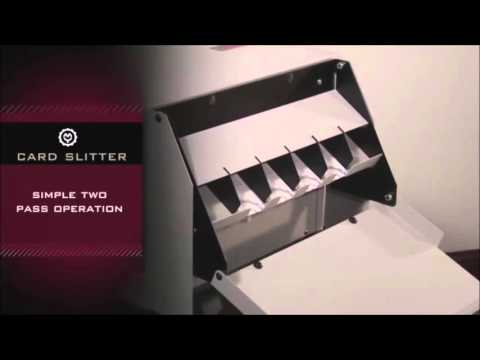 GC210 Desktop Business Card Slitter by Martin Yale
Convenience and efficiency are the core of the GC210 Desktop Business Card Slitter. An added extra large wastebasket receptacle and the self-cleaning feature make this Card Slitter a must-have item. This 10-up card slitter was created to allow for either full bleed or no bleed designs. Self-sharpening cutting blades will keep you going
for years of operation without replacement, can handle stacks of up to
5/8" thick and allows for continuous feeding. A perfect addition to any small office,
quick print shop or mailroom.
Features:
2-pass operation that cuts standard 8.5" x 11" sheets into 2" x 3.5" professional business cards
Extra large wastecan, self-cleaning mechanism also functions as a shut-off for added safety
10-up card slitter capable of producing 360 cards per minute
Self-sharpening hardened steel blades will allow years of operation without requiring replacement
Paper guides are adjustable to allow for precision cuts
Cutting depth of stacks up to .625" thick
Can be continuously fed to keep up production
Specifications:
Capacity: 360 cards per minute
Creasing: No
Perforating: No
Electrical: 115v
Dimensions: 17" W x 10 5/8" D x 28 1/4" H
Weight: 78 lbs.
Specifications for GC210 Desktop Business Card Slitter
---