Formax FD87HD Hard Drive Punch
Price: $4,295.00
Our Price:
$3,866.00
Shipping:
FREE
Brand: Formax
SKU: FD87HD
Product Videos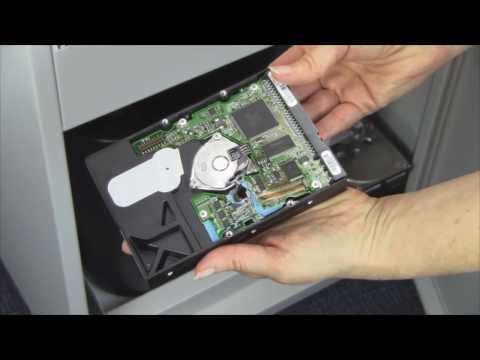 Formax FD87HD Hard Drive Punch
PRODUCT DESCRIPTION:
The Formax FD87HD Hard Drive Punch is capable of punching a hole through discarded hard drives by simply dropping in the hard drive, closing the safety shield, hitting the button. Once activated, the hardened steel punching dies to puncture the hard drive in either a 2.5" or 3.5" size. The drive penetrates the external housing on both sides and the internal drive rendering it unreadable.
The FD87HD punching die is made of hardened, nickel-plated steel for durability. The LED control panel displays the status and offers jam protection with an auto-reverse and automatic stop.
PRODUCT FEATURES:
Auto-stop after each cycle
Auto-reverse switches motor into reverse to clear jams
LED lights illuminate the punching chamber
Door safety sensor stops the motor automatically if the cabinet door is open
The auto sensor when the waste bin is full
All-metal cabinet with casters and storage capability
Low noise design
The drive cycle is 14 seconds.
PRODUCT SPECIFICATIONS:
| | |
| --- | --- |
| Punch Hole Size: | .39" (10mm) |
| Hard Drive Size: | 2 1/2" or 3 1/2" |
| Feed Opening: | 4.65" (118mm) |
| Punching Cycle: | 14 seconds |
| Dimensions: | 19.68" W x 18.5" D x 35" H (500 x 470 x 890mm) |
| Weight: | 154 lbs. (70kg) |
| Security Level: | H-3 (DIN 66399 standard) |
| Power Supply: | 110V, 50-60Hz |
Specifications for Formax FD87HD Hard Drive Punch
| | |
| --- | --- |
| : | 110 Volt |
| : | N/A |
| : | N/A |
| : | .39" |
| : | 4.65 |
| : | N/A |
| : | Yes |
| : | yes |
| : | N/A |
| : | N/A |
| : | N/A |
| : | Yes |
| : | No |
| : | No |
| : | 154 lbs |
| : | 19.68" W x 18.5" D x 35" H |
| : | N/A |
---