BCS212 Business Card Slitter
Price: $2,162.00
Our Price:
$1,425.00
Brand: Martin Yale
SKU: BCS212
Product Videos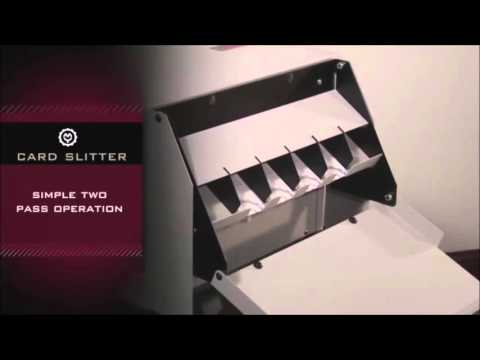 BCS212 Business Card Slitter by Martin Yale
With the BCS212 Business Card Slitter you will be cutting Business Cards to size in no time. Self-sharpening cutting blades will keep you going for years of operation without replacement, can handle stacks of up to 5/8" thick and allows for continuous feeding. A great addition to any office environment.
Features:
2-pass operation that first cuts standard 8.5" x 11" sheets into 3 strips of 3.5" x 11" and finishes by cutting them into 2" x 3.5"
12-up machine capable of producing 375 cards per minute
Self-sharpening blades will allow years of operation without requiring replacement
Paper guides are adjustable to allow for precision cuts
Cutting depth of stacks up to .625" thick
Can be continuously fed to keep up production
Specifications:
Capacity: 375 cards per minute
Score: No
Perforating: Yes
Crease: No
Electrical: 115v
Dimensions: 10-1/2" W x 15" D x 6" H
Weight: 35 lbs.
Specifications for BCS212 Business Card Slitter
---