Formax SqaureIT booklet maker
Price:
Call for Low Price!
Brand: Formax
SKU: SquareIT
Product Videos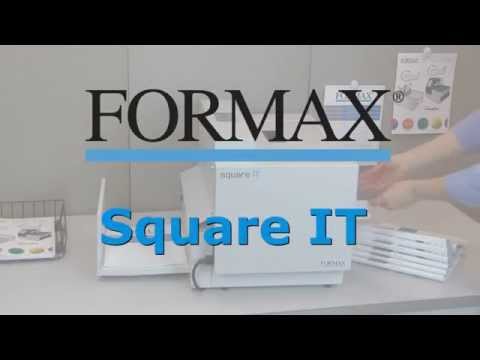 The Formax SquareIT booklet finisher gives your stapled booklets a perfect bound professional look with the security of a standard stapled product.
SquareIT bound books lay flat allowing a clean straight edge to be cut on your paper trimmer. Booklets also lay flat in shipping cases and on retail shelves making a professional presentation everywhere they're seen.
The SquareIT presses booklets up to 9 1/2" x 12 3/4", in sizes up to 24 sheets. The LED user panel is easy to operate so users can select from four thickness options.
The SquareIT compact finisher can be used as a hand-feed unit or as an in-line machine combined with other digital print machines.
Additional Features:
Heavy duty steel construction
Square back binding on stapled booklets
Up to 96 page / 24 sheet documents
LED user panel
Print on booklet spine for professional booklets
Accommodates a variety of paper sizes: min 4" x 4 1/2" max 9 1/2" x 12 3/4"
Easy to adjust for changes in paper size and staple position
Folding modes: 4, based on booklet thickness
Jam detection: Yes
Stacker full detection: Yes
Dimensions: 13" H x 22" W x 16" D (329 x 560 x 405mm)
Weight: 66 lbs (71kg)
Power: 105V, 50/60Hz
Specifications for Formax SqaureIT booklet maker
---