Formax FD390 Air Feed Document Folder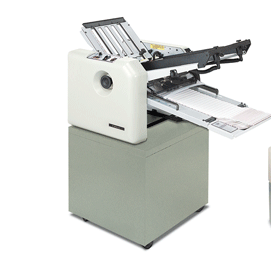 Formax FD390 Air Feed Document Folder
This item has been discontinued.
Formax FD390 Air Feed Document Folder
PRODUCT DESCRIPTION:
The Formax FD390 high-speed document folder is ideal for virtually any high volume application such as mailrooms, print shops or mail houses. The bottom in-feed air system allows for continuous loading of forms and the extended out-feed stacker cuts the time for the unloading of folded documents which helps to increase efficiency.
Easy setup is also a feature as seven common fold settings are located on the out-feed stacker. Microadjustment knobs can be used to fin-tune the stopper position making accurate and crisp folds every time.
PRODUCT FEATURES:
Bottom Air Feed
Rigid Steel Fold Plates
Adjustable Side Guides
5 Digit Counter
Fold documents from 3" x 5" to 14" x 20"
Variable speed for up to 35,000 per hour
User friendly control panel
Specifications for Formax FD390 Air Feed Document Folder
---