Finding the right industrial shredder can be a difficult task. There are many choices to make including selecting a manufacturer, an appropriate machine size, correct production capacity, cut size, and waste disposal options. Shredder size is an important consideration since many locations have limited access so units must be under 36" wide.  In this article, we highlight the top 3 industrial paper shredders able to fit through a standard doorway yet provide the maximum shred throughput.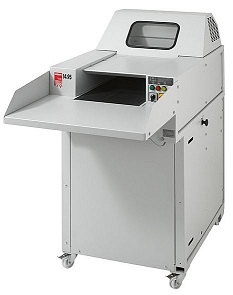 With a 5.3 hp motor and a shred capacity of 130 sheets per pass, the Intimus 14.95 uses a continuous duty motor and a 59 ft/min conveyor belt to process 518 lbs. of paper per hour.  This makes the Intimus 14.95 a popular choice for shred companies and municipalities looking for an industrial shredder with a high capacity and low maintenance service record.  German made and known for sturdy workmanship with hardened steel blades, the Intimus 14.95 is the entry level industrial paper shredder offered by Intimus.
The AdvantaShred D1050 uses a 5.3 hp. motor to shred 770 lbs. of paper per hour making it the highest producing industrial paper shredder in this price range.  Designed specifically to produce the maximum shred capacity with the smallest footprint, the AdvantaShred D1050 uses a large 114 gal waste container.  This means less downtime changing bags.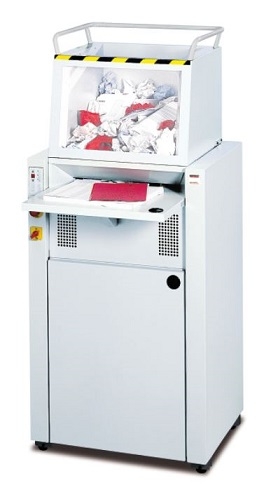 The Destroyit 4605 Cross Cut is built with a hopper feeder designed for easy dumping from waste containers.  With the smallest footprint of 29" x 30", the strongest motor at 7.3 hp, the Destroyit 4605 easily fits into the smallest areas.  Destroyit brand shredders have a proven history and are the only manufacturer to stand behind their blades with a lifetime warranty.
Before investing in an industrial shredder, make sure you answer these basic questions.
What is the size of the access opening where the shredder will be installed?
Does the location have 220 volt 3 phase power?  All industrial shredders require this power be available before the unit is shipped.  Sample power certificate.
Is there a loading dock available for the delivery truck?  If not, ask for a lift gate when you order the unit.  Lift gate fees generally run $75.00.
How many pounds per hour do you need to process?
Should you lease or purchase the unit?  Consider a lease to own if you want to write off the entire monthly payment or if cash is limited. Leasing can be a good option.
If you have any specific questions, ask your local dealer for the options they recommend.  Remember, your dealer wants a happy and return customer.