Swingline Stack-and-Shred 500M Auto Feed Shredder, MICRO-CUT, 500 Sheets
Price: $4,000.00
Our Price:
$3,545.00
Brand: Swingline
SKU: 1758577
Product Videos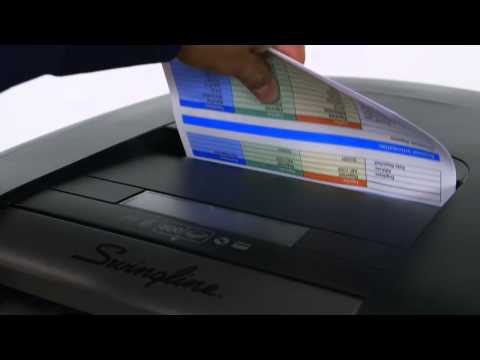 Be more productive in the office with the Stack-and-Shred 500M Micro Cut Auto-Feed Large office paper shredder. This high capacity large office industrial shredder does all the work. Open the lid and insert a stack of up to 500 sheets of letter or legal size paper into the over-sized holding area, shut and lock lock the top if you wish and walk away. The Auto Feed Swingline 500M automatically turns on and cross-cut shreds all 500 sheets with no paper feeding required. The powerful blades can handle paper clips or staples without slowing down. Protect your privacy by using the lockable lid.  Set a programmable 4-digit PIN code for access to protect your papers while the 500M processes the paper. For smaller jobs up to 10 sheets, as well as glossy or crumpled paper, a manual feed slot is easily accessed on the top of the unit. A separate manual feed slot is also included to safely shred Credit Cards, DVDs, and CDs. The super cross-cut shred of the 500M provides Level P-5 security. All sheets are shredded into the 21-gallon wire frame waste bin. 
A view window and bin full indicator allow you to check if it needs to be emptied with just an easy glance, and it can be lined with a shredder bag (sold separately) to simplify clean-up. The 500M Hands Free Shredder includes Intelligent™ SelfOil (16 oz. reservoir), Intelligent™ Self-cleaning Cutters and Intelligent™ Power Save for automatic shut down. The Intelligent™ Auto+ Jam Clearance feature virtually eliminates any paper jams. The shredder automatically recognizes jams and reverses the paper then re-feeds into the shredder. The manual reverse function can be used for the rare jam that may require user action. 
Best for large office environments, the Stack-and-Shred 500M is designed to meet the shredding needs of 10 to 20 users. It offers continuous operation and is ultra quiet so it does not disrupt the office during large shred jobs. Increase the productivity of your office workers and add time back into the workday by letting the shredder do the shredding with a Swingline Stack-and-Shred Hands Free Shredder.
Spend less time shredding versus a traditional shredder - just stack, shut and walk away.
Up to 500 sheet automatic shredding of legal and letter size sheets. Can shred up to 10 sheets at a time during manual feed shredding.
Shreds documents, paper clips, staples. Credit cards must be manually inserted into rollers in auto feed chamber.
DVDs and CDs can be shredded through a separate slot in the auto feed tray
21-gallon pull-out bag frame
Continuous operation, super cross-cut shredder meets everyday security needs (Level P-5)
Lockable paper chamber with 4-digit programmable PIN code lock protects sensitive information during shredding.
Intelligent Auto+® Jam Clearance technology prevents shredder jams by automatically reversing and re-feeding stuck papers to clear a jam. Intelligent Interactive Jam Clearance with blinking LED lights to guide user through clearing a more complicated jam is also included.
Intelligent SelfOil™ auto lubricates cutters, reduces noise & extends life. Oil reservoir holds 16 oz. Intelligent Self-cleaning Cutters auto remove build-up that cause jams.
2 year warranty on machine, 20 years on cutters, with 2 years on-site service. 32"H x 20"W x 21"D product dimensions.
Specifications for Swingline Stack-and-Shred 500M Auto Feed Shredder, MICRO-CUT, 500 Sheets
| | |
| --- | --- |
| Power Supply: | 120 Volt |
| Max Speed (ft/min): | 10 ft per min |
| Sheet Capacity (20lb - 16lb): | 10 per pass - 500 Sheets Legal Size Paper |
| Shred Size (in.): | 1/8" x 1/2" |
| Throat Opening (in.): | 9 |
| HP (output): | - |
| Auto on/off: | Yes |
| Auto Reverse: | Yes |
| Motor Duty Cycle: | Continuous |
| Bag Full Auto Off: | No |
| Bag Full Indicator: | No |
| Casters: | Yes |
| Accepts CDs/Credit Cards: | Yes |
| Accepts Staples/Paper Clips: | Yes |
| Shipping Weight: | 136 lbs |
| Dimensions: | 32"H x 20"W x 21"D |
| Waste Bin: | 21 |
---