Swingline Stack-and-Shred 300M Auto Feed Shredder,MICRO-CUT, 300 Sheets
Price: $2,000.00
Our Price:
$1,829.00
Brand: Swingline Stack and Shred
SKU: SW1757577C
Product Videos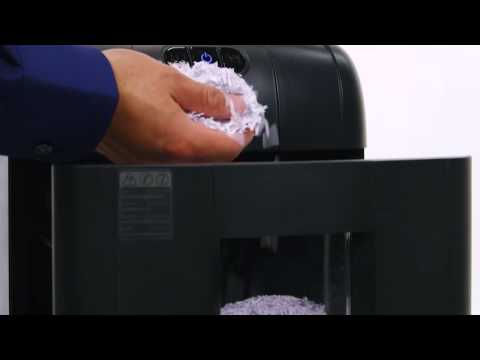 The Swingline Stack-and-Shred 300M allows the user to place up to 300 sheets in the locking top tray, close the lid and walk away. The 300M will Micro-cut shred the paper automatically all hands free. By eliminating the standard need to manually feed paper, users can work on other projects while the shredder handles all the Paper feeding. The 300M will automatically micro-cut shred as many as 300 sheets, including paper attached or fastened with paper clips or staples. Insert a stack of 300 letter size sheets into the auto feed tray, shut the lid, and you're done. The 300M hands free shredder includes a PIN activated locking top feature to keep sensitive items safe during the automatic shredding process. Once shredding starts, the paper chamber locks and cannot be opened unless a user enters a 4-digit PIN code to stop the shredding. Only once the shredding project is completed, the shredder will automatically unlock for the next user. To shred DVDs/CDs, credit cards, glossy and folded sheets, a manual shredding slot is also included, which shreds up to 8 sheets at a time. The 300M is a micro-cut shredder, delivers Level P-5 security that is suitable for all confidential documents, including sensitive financial or personal identity information into 2000 pieces per page. The Swingline® Stack-and-Shred™ 300M Hands Free Shredder is an innovative, automatic shredder that simplifies shredding and helps increase your productivity level.
Spend less time shredding - just stack, shut and walk away. You're done!
300 page sheet automatic shredding of letter size sheets. Can shred up to 8 sheets at a time during manual feed shredding.
Shreds documents, paper clips, staples. Credit cards must be manually inserted into rollers in auto feed chamber.
DVDs and CDs can be shredded through a separate slot in the auto feed tray
11-gallon pull-out bin
Micro-cut shredder meets high security needs (Level P-5)
Lockable paper chamber with 4-digit programmable PIN code lock protects sensitive information during shredding
Intelligent Auto+® Jam Clearance technology prevents shredder jams by automatically reversing and re-feeding stuck papers to clear a jam. Intelligent Interactive Jam Clearance with blinking LED lights to guide user through clearing a more complicated jam is also included.
Intelligent Self-cleaning Cutters auto remove build-up that causes jams
2 year warranty on machine, 15 years on cutters. 25"H x 13.75"W x 18.5"D product dimensions.
Specifications for Swingline Stack-and-Shred 300M Auto Feed Shredder,MICRO-CUT, 300 Sheets
| | |
| --- | --- |
| Power Supply: | 115 V |
| Max Speed (ft/min): | 8 ft per min |
| Sheet Capacity (20lb - 16lb): | 8 per pass. Holds 300 sheets in bin |
| Shred Size (in.): | 1/8" x 1/2" Micro Cut |
| Throat Opening (in.): | 9" |
| HP (output): | under .5 |
| Auto on/off: | Yes |
| Auto Reverse: | Yes |
| Motor Duty Cycle: | 30 on 30 min off |
| Bag Full Auto Off: | No |
| Bag Full Indicator: | No |
| Casters: | Yes |
| Accepts CDs/Credit Cards: | Yes |
| Accepts Staples/Paper Clips: | Yes |
| Shipping Weight: | 58.9 lbs |
| Dimensions: | 25"H x 13.75"W x 18.5"D |
| Waste Bin: | 11 gal |
---