Phiston MediaVise Compact Solid-State Drive (MVC-SSD) Destroyer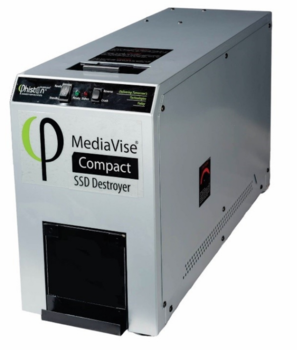 Phiston MediaVise Compact Solid-State Drive (MVC-SSD) Destroyer
Price: $7,695.00
Our Price:
$6,895.00
Brand: Phiston
SKU: MVC-SSD
Product Videos
The Phiston MediaVise Compact SSD Destroyer (MVC-SSD) is a patented high security solid-state drive and digital media destroyer.
---
Using two hardened steel plates with 187 points, the Phiston MediaVise SSD crusher uses 20 tons of force to drive the teeth into each side of the media crushing the casing and destroying the internal contents. This crushing motion damages all the internal storage disks as well as the functioning part of the drive making all the stored data unrecoverable. Cycle time is only 30 seconds allowing you to destroy up to 120 storage devices per hour.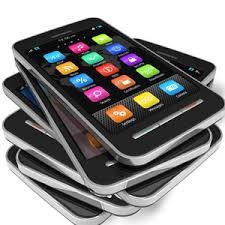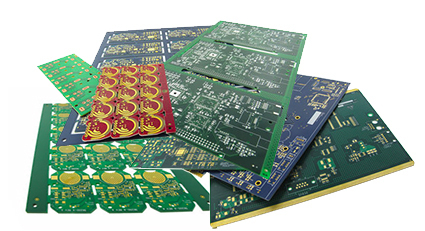 Safely destroys data on:
Solid State Drives
Flash Drives
Cell Phones
Circuit boards
PDA's
USB storage devices
Some Hard Drives
PRODUCT FEATURES
Standard safety features:

100% Automatic operation and chamber is protected from hands.
Waste is captured safely in the receptacle for easy disposal.
HEPA Filter catches small, dangerous floating waste or pieces of scrap released into the air during crushing including dust from glass and electronic parts.
RFI and EMI Suppression to eliminate electronic interference.
Quiet operation of only 65db. 20dd lower than OSHA standards.
BENEFITS
Small & portable design. The SSD destroyer measures 22.5" x 9.5", and 16" high.
Digital media destruction can be done on site and never leave your facility.
Easy and automatic operation.
Lifetime warranty on the blades.
Machine Weight (Excluding packaging and crating):
130 lbs. – 110 volt model

145 lbs. – 220 volt model

Machine Dimensions:
16" x 22.5" x 9.75" (H x L x W)
Shipping Weight:
155 lbs. – 110 volt model

170 lbs. – 220 volt model

Shipping Dimensions:
21" x 26" x 13 " (H x L x W)
Power Requirements (voltage / frequency / current):
220 Volts A.C. ±10%, 50/60 Hz, 7.5 Amps

110 Volts A.C. ±10%, 50/60 Hz, 15 Amps

Factory Configured for any international power supplies
| | |
| --- | --- |
| Maximum Media Size Destroyed: | 5.75" x 1.25" x 4" (H x L x W) |
| Full Crushing Cycle Time: | 30 seconds. Debris falls into debris bin. No need to clean machine after each use. |
| Media Accepted: | Dedicated SSD destroyer (no adapters required), cell phones, circuit boards, memory chips. The MVC-SSD will also crush HDDs making them inoperable, however, this application is recommended only for emergency destruction of HDDs, and only in limited numbers as the hard metal casings of HDDs will quickly dull the sharp pyramidal teeth of the MVC-SSD. |
| Debris Collection: | Debris is ejected directly into included collection drawer that holds up to 5 destroyed SSDs |
| Maintenance/Longevity: | 50,000 Cycles MTBF. No blades to be replaced or sharpened |
| Technical Support: | On-call technical support service department; nationwide and international technical support team that can be deployed if and when repairs or maintenance needed. |
Specifications for Phiston MediaVise Compact Solid-State Drive (MVC-SSD) Destroyer
| | |
| --- | --- |
| Power Supply: | |
| Max Speed (ft/min): | |
| Sheet Capacity (20lb - 16lb): | |
| Shred Size (in.): | |
| Throat Opening (in.): | |
| HP (output): | |
| Auto on/off: | |
| Auto Reverse: | |
---