Novus Pro Staplers - Flat Clinch - B4FC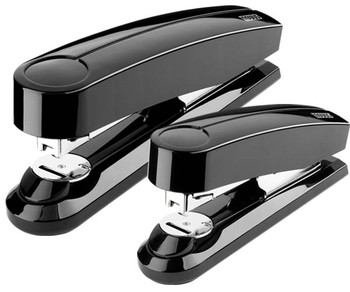 Novus Pro Staplers - Flat Clinch - B4FC
Price: $39.95
Our Price:
$35.96
Shipping:
FREE
Brand: Novus
SKU: B4FC
Novus Pro Staplers - Flat Clinch by Novus
The Novus Pro Staplers - Flat Clinch series is capable of three modes of use: a flat clinch, the temporary pin, or tack. The tack mode enables attaching documents to walls or bulletin boards. The temporary pin mode enables the user to remove staples from documents without having to use other devices. Capable of stapling a few sheets or up to 50 pages, this stapler will improve both productivity and efficiency.
Features:
30% improved binder storage by pressing & bending staple legs flat
Steel driven mechanism delivers high performance
Tri-mode capability, dual staple guide encases the staples
Front-load staples with ease by push of a button
Compact design frees-up workspace
Durable quality designed and engineered by Germans
Specifications:
Clinch Type: Flat

Throat Depth: 2 3/8"
Capacity: 50 Sheets
Dims: 5 5/8" x 1 1/2" x 3"
Specifications for Novus Pro Staplers - Flat Clinch - B4FC
---