Novus B8FC Flat Clinch Stapler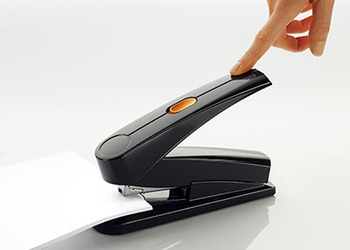 Novus B8FC Flat Clinch Stapler
Price: $89.95
Our Price:
$80.96
Shipping:
FREE
Brand: Novus
SKU: 020-1673
Novus B8FC Flat Clinch Stapler by Novus
The Novus B8FC Flat Clinch Stapler features Power-On-Demand, reducing the effort of stapling by 70%. Capable of either permanent flat clinch or temporary pin mode and a capacity of stapling a few sheets or up to 50 pages, the B8FC greatly improves both productivity and efficiency.
Features:
Power-On-Demand reduces effort by 70%
30% improved binder storage by pressing & bending staple legs flat
Steel driven mechanism delivers high performance
Dual-mode capability
Reload staples with ease by push of a button
Bypass System enables one size staple for all projects
Durable quality designed and engineered by Germans
Specifications:
Clinch Type: Flat

Throat Depth: 2 5/8"
Capacity: 50 Sheets
Dims: 7 7/8" x 1 7/8" x 3 7/8"
Specifications for Novus B8FC Flat Clinch Stapler
---