Master MVR24 Heavy-Duty Steel System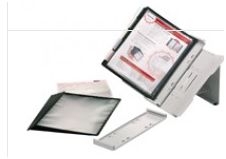 Master MVR24 Heavy-Duty Steel System
Price:
$215.27
Shipping:
FREE
Brand: Master
SKU: MVR24
Master MVR24 Heavy-Duty Steel System by Master
The Master MVR24 Heavy-Duty Steel System is a desktop display that enables quick viewing
of reference materials such as phone lists, calendars, price sheets and
more! The polypropylene sleeve keep the reference material from
sticking, making it easier to swap documents.
Features:
24-sleeve two-sided display
Photocopy through the frame
Each sleeve accepts up to 8.5" x 11" sheets, designed to eliminate glare
Durable heavy-gauge steel base 
Some basic assembly required
Indexing kit included for easy filing
Require replacement sleeves? Order item MVF3
Specifications:
Document Size: 8-1/2" x 11"
Filling Capacity: 48
Dimensions: 21" W x 8" D x 14" H
Weight: 8 lbs.
Specifications for Master MVR24 Heavy-Duty Steel System
---