Save

$1,026.00
The MakerBot Replicator Educational Package
Valid through 3/31/2016
THE EDUCATOR'S BUNDLE INCLUDES: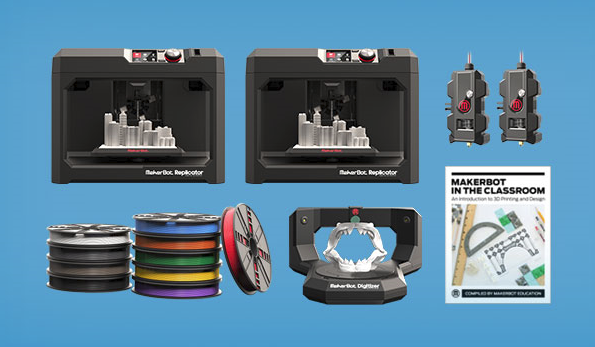 • 2 MakerBot Replicator Desktop 3D Printers (MP05825)
• 2 SmartExtruder+ (MP07325)
• 2 MakerCare 1-Year Plans for Each 3D Printer (MP06165)
• 10 - Pack of Large PLA Filament Spools (MP06572)
• 1 MakerBot Digitizer Desktop 3D Scanner (MP03955)
BONUS: MakerBot in the Classroom Handbook (MP06792)
Fifth Generation: The newest design with the faster firmware increasing print speed 30% over previous versions using the gantry X Y axis system. Print production quality products without worrying about inventory planning or product stocking. Print products to order in the 456 cubic inch print chamber.
WIFI enabled: Combined with USB and Ethernet connections make working from any device seamless and fast.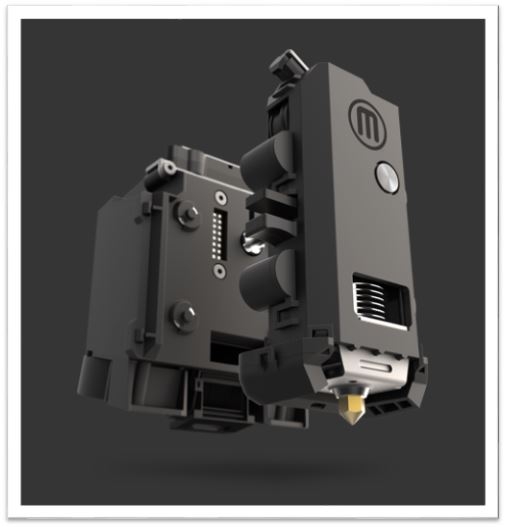 100 Micron extruder: Paper fine 100 micron printing produces smooth surfaces which require no post production sanding or finishing. Easily create professional quality prototypes and ultra complex pieces with smooth to the touch, mold quality finish. Multiple settings available when detail is less important than speed. Perfect for prototype review.
Smart technology built into the extruder notifies the user through the mobile app when the filament is empty. Printing is paused until new filament is installed so the print job can continue without starting the project over.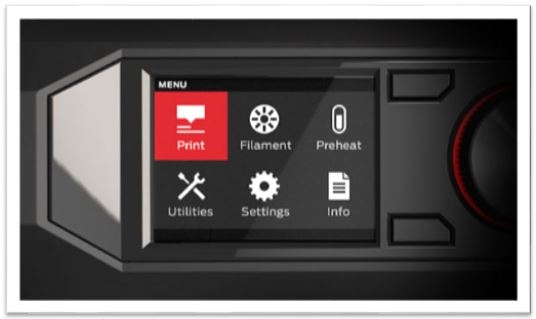 Easy to remove design make changing out the old worn out print head quick and easy. Designed with the future in mind so owners can upgrade the extruder and take advantage of new and improved advances in extruder technology.
Dual Mode Printing: Adjustable printing so users can select a high speed draft or a detailed fine resolution.
3.5 LCD screen: Quickly access the print library and all printer functions using the stereo quality adjustment knob. The dial and push interactive knob and screen lets you move instantly through the settings to set up any print job in seconds. See previews of the selected file before printing so you can confirm the project before printing begins.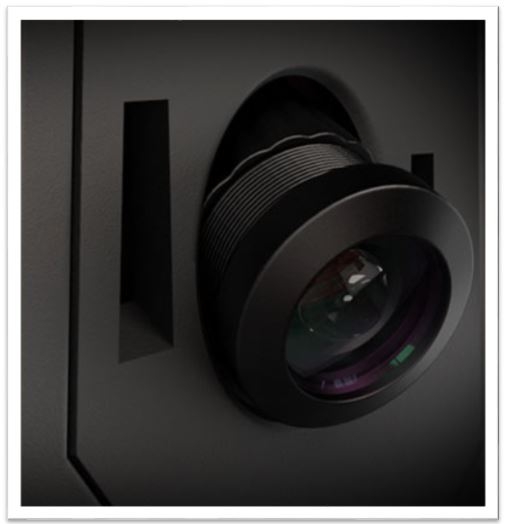 On Board Camera: Monitor the print job through the mobile app or from your desktop. Take photos and upload to the cloud to share progress with clients or coworkers. Use social media or MakerBot Thingiverse to show off the project.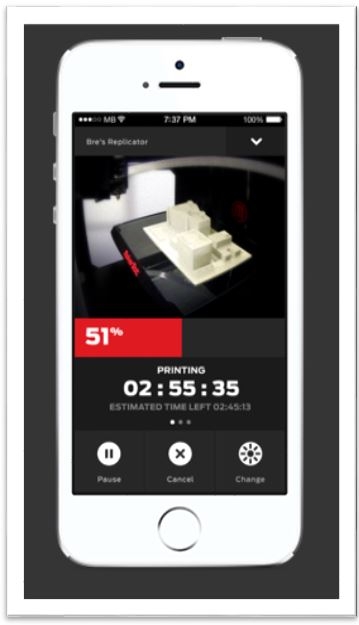 Mobile App: Monitor your printer from anywhere and start and stop projects from your mobile device. Access your cloud library, share your designs, and get inspired from anywhere.
Receive notifications from your MakerBot and alerts so you are always in touch with the production without having to stand and watch the entire process. The 320 x 240 pixel camera allows you to take reference pictures throughout the project to keep everyone informed and let others follow the progress from anywhere in the world.
Assisted Leveling: Easy visual level indicator.
User Friendly Software: Search, buy, and prepare 3D files in one simple location.
Warranty: Standard 6 month warranty on the printer and 90 days for the extruder.
Optional Starter Kit: Optional starter bundle includes everything you need to begin printing your first project.
Ten Pack PLA Filaments by MakerBot
Build Plate Tape
One Year MakeCare protection plan
| | |
| --- | --- |
| Features | |
| USB Connection | Yes |
| Filament Diameter | 1.75 mm |
| Supported Material | Polylactic Acid (PLA) |
| Network (RJ-45) | Yes |
| Color | Black | Grey |
| Warranty | 90 Day |
| Shipping Weight | 45.9 lbs |
| Material | Glass | Powder Coated Steel |
| Print Jet | Single |
| Print Technology | Fused Filament Fabrication |
| Unit Size (H x W x D) | 16.1" x 17.4" x 20.8" |
| Print Object Size | 7.83" x 5.91" x 9.92" 456 cubic inch |
| Wireless LAN | Yes |
| Camera Resolution: | 320 x 240 |