The MakerBot Replicator Mini + printer
One Touch 3D printing powered by the new MakerBot 3D printing platform.
Affordable One Touch 3D Printing: Using the newest and fastest 3D printer technology, the MakerBot Mini+ brings the excitement of 3D printing to homes and small offices everywhere. Unleash your imagination and print everything from custom gifts to replacement parts. Using free MakerBot software, easily create anything you can imagine from your PC or Mac. Take the lightweight mini to schools, parties, and events to let anyone explore the creative possibilities of 3D printing.
28% bigger build volume and 10% faster than the prior model and now able to print to 100 micron or 400 micron thickness.
Perfect for :
Parties - Let kids pick their gift!
Events - Scan and print for entertainment or profit!
School functions - Turn a childs art into 3D reality.
Trade shows - Expose everyone to the world of 3D printing.
Family events - Replace broken heirlooms.
Craft projects - Limitless possiblities.
Household utensils and replacement part production.
Make custom gifts for friends and family.
Unlimited possibilities!
WIFI enabled: Combined with a USB connection, the WIFI connection makes working from any device seamless and fast.
58% quieter and a new build plate thate makes build tape a thing of the past.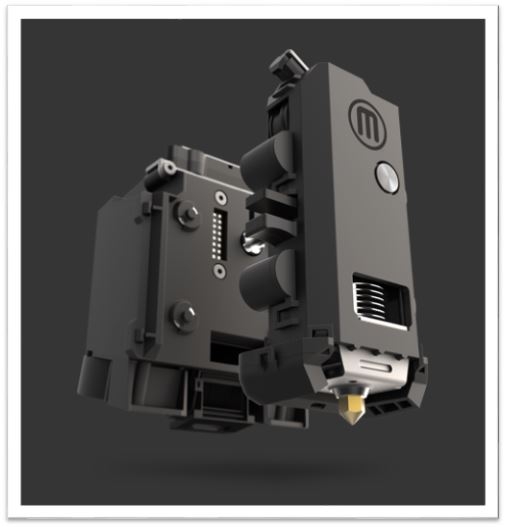 100 Micron extruder: Produces quality print projects, replacement parts, custom designed projects, or anyone of the thousands of free, pre-designed projects listed on Thingverse. Smart technology built into the extruder notifies the user when the filament is empty. Printing is paused until new filament is installed so the print job can continue without starting the project over. The easy to remove design make changing out the old worn out print head quick and easy. Designed with the future in mind so owners can upgrade the extruder and take advantage of new and improved advances in extruder technology.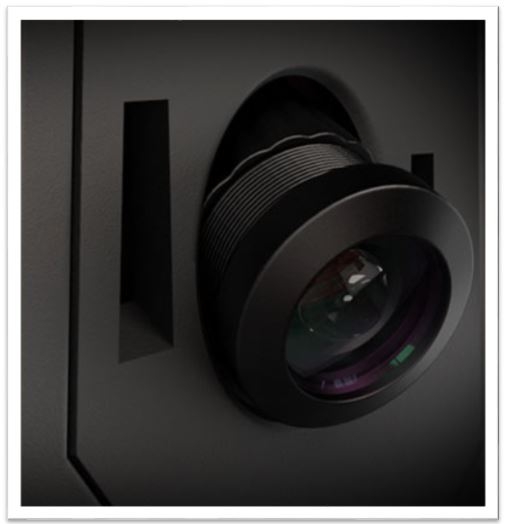 On Board Camera: Monitor the print job through the mobile app or from your desktop. Take photos and upload to the cloud to share progress with clients or coworkers. Use social media or MakerBot Thingiverse to show off the project. Clear 640 x 480 resolution for clearer images.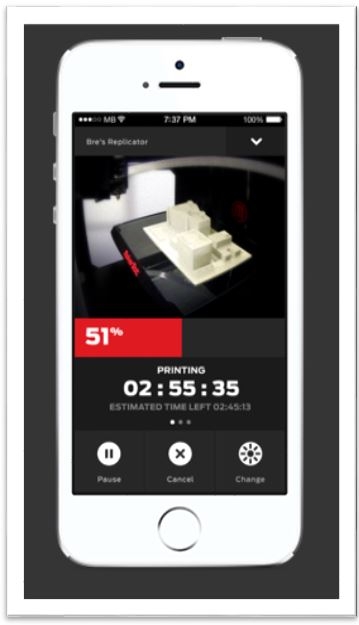 Mobile App: Monitor your printer from anywhere and access your cloud library, share designs, or simply get inspired from anywhere.
Receive notifications from your MakerBot and alerts so you are always in touch with the production without having to stand and watch the entire process. The 320 x 240 pixel camera allows you to take reference pictures throughout the project to keep everyone informed and let others follow the progress from anywhere in the world.
User Friendly Software: Search, buy, and prepare 3D files in one simple location.
Warranty: Standard 6 month warranty on the printer and 90 days for the extruder.
Optional Starter Kit: Optional starter bundle includes everything you need to begin printing your first project.
5 Rolls PLA Filament - Small Roll
Build Plate Tape
| | |
| --- | --- |
| Features | |
| USB Connection | Yes |
| Filament Diameter | 1.75 mm |
| Supported Material | Polylactic Acid (PLA) MakerBot Small Spool |
| Print File Type | .Makerbot |
| Color | Black | Grey |
| Warranty | 6 month of unit | 90 days extruder |
| Shipping Weight | 22 lbs |
| Material | ABS | Powder Coated Steel |
| Print Jet | Single |
| Print Technology | Fused Deposition Modeling |
| Unit Size (H x W x D) | 15" x 12.2" x 11.6" |
| Printer Chamber Size | 4" x 5" x 5" |
| Wireless LAN | Yes |
| Camera Resolution: | 640 x 480 |