Leapfrog Creatr HS 20 Micron Dual Extruder Semi-Professional 3D printer 
The Creatr High Speed (HS) is designed with light weight parts to enable quick, accurate movement and filament application producing detailed 3D print projects.  At speeds up to 300mm per second, the Creatr can quickly print production quality projects.
Dual Extruder: The LeapFrog CREATR is made for the creative dreamer.  With dual heads, the Creatr can build projects using two different filament colors or types at one time. Professionals know dual extruders are essential when printing projects requiring support structures or when using water soluble filament.  Designed for PLA and ABS filament, the dual extruder can accurately print as fine as 20 microns thick.  This gives makes the Creatr one of the most precision advanced 3D printers available.  
Durable Aluminum Frame: Made from ultra sturdy industrial grade aluminum, the Creatr 3D printer is designed to be the work horse printer for high volume production.  Not affected by temperature changes or extended use, the precision construction means the Creatr will out last the competitor models.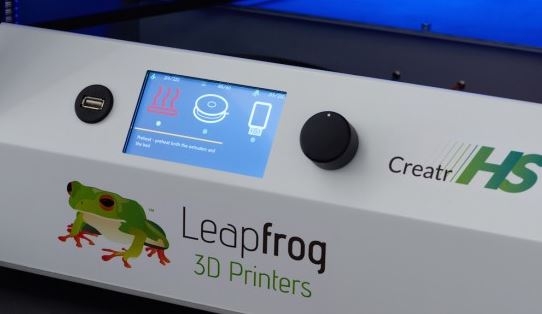 13.6 L (3.0 gal) build chamber:  With a large build chamber measureing 11" x 9.4" x 7.1" (DWH) and aheated bed, the Creatr 3D printer has he largest build area in its category. The larger build volume minimizes splitting and assembling projects.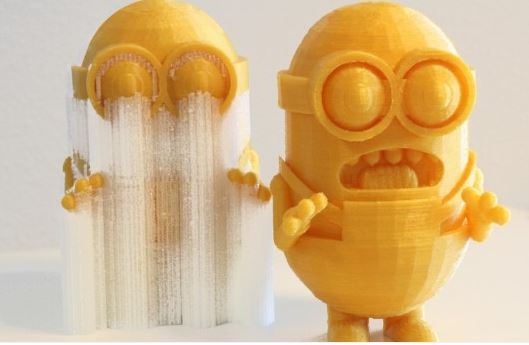 LCD Screen: Built and designed for all users with or without 3D printing experience, the Creatr HS has a single knob LCD user panel.  Not SD cards needed. Just insert a USB 3.0 stick and start printing.  Preheat and printing can be done in less than 10 minutes. 
| | |
| --- | --- |
| Features | |
| USB Connection | Yes |
| Filament Diameter | 1.75 mm |
| Supported Material | ABS, PLA, PVA, Nylon, Brick, Hybrid transparent |
| USB standalone format | 3.0 |
| Power | 170-264 vac  |
| Print Accuracy | .0007" - .014" |
| Internal OS | Linux |
| Material | Aluminium parts |
| Print Jet | Dual |
| Print Technology | Fused Deposition Modeling |
| Unit Size (H x W x D) | 25.1" x 35.4" x 25.1" |
| Build Chamber Size (D x W x H)  | 11" x 9.4" x 7.1" 3.0 gal |
| Wireless LAN | No |
| Heated Bed: | 194 F |