HSM Cutline T3310 Paper Rotary Trimmer
This item has been discontinued.
FREE
Brand: HSM
SKU: HSM Cutline T3310
Y_off-->
Product Videos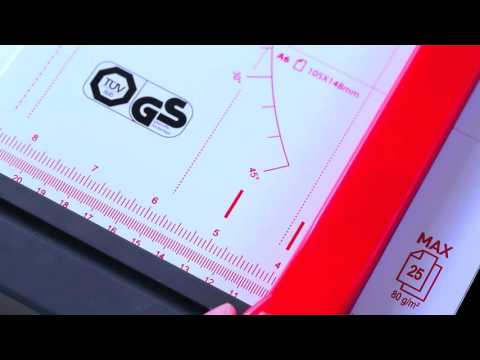 HSM Cutline Paper rotary trimmers are made using hardened steel blades and allow for precision cuts on greeting cards, paper trimmers, photos, thin cardboard, foil, and a wide variety of paper items.
Built in measurement scales in both inch and cm are conveniently placed for quick reference.
Side mounted carrying handle makes the cutter easy to carry and the unit can also be wall mounted if needed.
Self sharpening rotary blades and self pressing guide allow for quick cutting of all your paper projects.
| | |
| --- | --- |
| Model: HSM Cutline T3310 | MPN: 1000901 |
| Cut Capacity: | 10 sheets |
| Table Width: | 6 3/16" |
| Cutting Length: | 13" |
| Table Depth: | 13" |
| Shipping Weight: | 3.13 lbs |
| Dimensions: | 3 3/4"H x 20 7/8"W x 9 3/16"D |

Specifications for HSM Cutline T3310 Paper Rotary Trimmer
---