FD1502 Plus Mid-Volume Pressure Sealer
Price: $6,495.00
Our Price:
$6,395.00
Brand: Formax
SKU: FD1502 Plus
Product Videos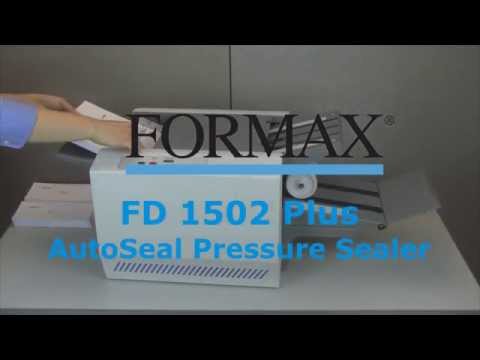 The FD 1502Plus AutoSeal® has a processing speed of up to 6,250 forms per hour which enables operators to complete daily jobs with ease. Plus it keeps processed forms neat, in sequential order, ready for the mail with its integrated output conveyor.
The FD1502 Plus' newly redesigned fold plates, that are clearly marked and easier to adjust, can handle up to 14" forms with the versatility to fold and seal almost any mid-volume application you may need.
Built in the USA with a compact desktop design , with easy set-up and operation, this makes this the ideal unit for small offices or individual departments.
Easy to adjust, clearly marked redesigned fold plates


Marked for Z, C, uneven Z and half folds
Can be reset for custom folds including Eccentric Z and C-fold

Compact desktop design
Speeds up to 6,250 pieces per hour
Integrated output conveyor
3-roller top feed
LED fault indicators
Hopper capacity up to 200 forms
Specifications for FD1502 Plus Mid-Volume Pressure Sealer
---